Posted 8.5.12
Apple iPad and iPhone eazyCMS Web Editor launched!
Eazyweb are delighted to announce the eazyCMS Mobile Web Editor App is now available for the Apple suite of mobile products... including the iPhone 3GS, iPhone4, iPhone4S, plus the iPad 1 and iPad 2.
eazyCMS 4.0 Mobile is a Content Management System that allows businesses of all sizes to be able to update parts of their eazyCMS website, quickly and easily from the mobile operating system of their choice.
All you need is an eazyCMS site (either a custom design from eazyweb.net or an off-the-shelf design from eazySiteBuilder.com) and then you can edit parts of your website using the app!

Add a news item, post an event, create an image gallery, post to your Blog... all this and more is now possible using the eazyCMS Mobile App on your Apple device.
Just point your internet-enabled Apple device at this URL: http://itunes.apple.com/us/app/eazycms-website-editor/id518566493?ls=1&mt=8 , download the FREE eazyCMS Website Editor, and you're all set to edit your eazyCMS website on the go!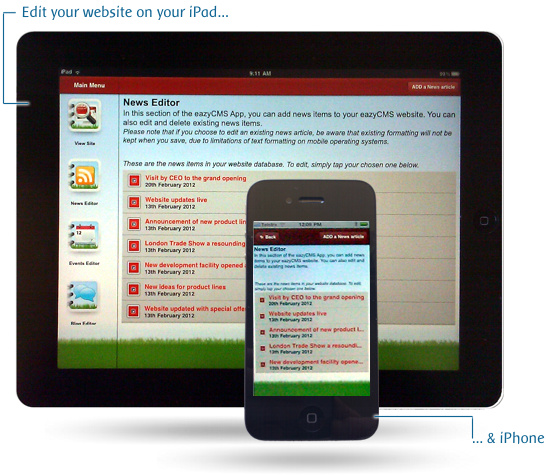 Features of eazyCMS 4.0 Mobile Web Editor
Using this advanced system, users can easily edit any of the following items in their site database:
News Articles
(Add, edit or delete)
Blog
(Add, edit or delete Blog posts, plus view user comments);
Galleries
(Add, edit or delete, plus upload imagery to an Image Gallery direct from the phone's camera and/or photo gallery);
FAQs
(Add, edit or delete, plus show/hide FAQ from site);
Events
(Add, edit or delete events);
Traffic Analyser
(discover the most popular pages in your website, viewed in Column Chart, Pie Chart or Tabular List format).
In this way, Website Administrators are able to post important information directly to their website from their mobile phone or tablet.
New features are added regularly, and all users benefit from updates to the system at regular intervals.

eazyCMS is a continually evolving & robust product platform, in use by thousands of businesses worldwide, backed by a company with a proven track record of 16+ years software and internet development.
More Info
Already got an eazyweb site? You're good to go! Just download eazyCMS from iTunes for free, & start using the eazyCMS App now on your Apple phone or tablet!
Otherwise, contact us today at http://www.eazyweb.net and ask us about converting your existing site to the eazyCMS format.