Posted 13.4.12
Baby Creations - new website launched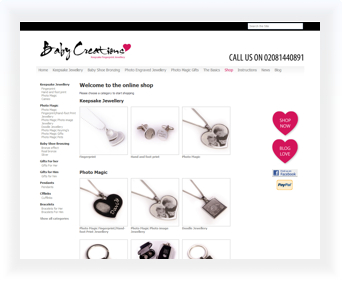 Eazyweb are today pleased to announce the launch of the brand new keepsake jewellery website, Baby Creations.
Baby Creations is a new website which offers unique pieces of handmade pure silver jewellery incorporating the fingerprints, hand-prints or footprints of babies, allowing parents to get their own keepsake to remember their baby. They also offer cameo and photographic jewellery.
The website has a clean, fresh and simple design which reflects the style of the company, and features a completely custom shopping catalogue, designed to the client's exact requirements.
More info:
Baby Creations
http://www.fingerprintjewellerykeepsake.co.uk