Posted 28.2.12
Clothes shopping just got a whole lot easier!
Imagine being able to browse the clothing ranges from all the main High Street chains & speciality boutiques... without leaving your house. Sounds good doesnt it? With the launch of Eazyweb's latest client site TheShoppingJungle.com, thats now completely possible!
TheShoppingJungle.com required the integration of an incredible 200,000+ products into a database system, updated daily with the latest deals provided d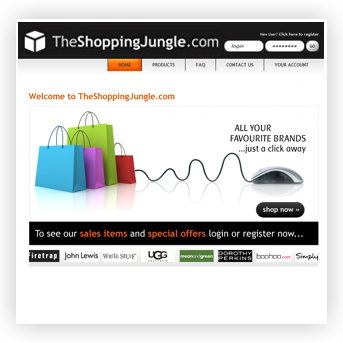 ynamically by clothing merchants located all over the United Kingdom.
The site includes Mens, Womens & Childrens clothing, plus Footwear, Accessories and Lingerie. All the main UK retailers are represented, including Burton, Dorothy Perkins, John Lewis, Marks & Spencer, JD Sports, Nike, GAP and many more.
Eazyweb were able to develop a completely bespoke system, to integrate all of the products, plus a methodology for updating them once a day automatically from various sources.
The brief also required the development of a fresh original style - clean and simple, designed to let the products do the talking.
The site benefits from a variety of cool features, including the ability to search for a product using text entry and/or category browsing, and then refining the results based on a price range, a particular Merchant, or even based on colour!
Users can create an account on the site, and store their favourite products in a Wishlist, ready to recall later. Search results can be displayed in either a tabular view, or an image view, depending on the user's preference.
More Info
If you fancy beating the high street crowds this season, why not head over to TheShoppingJungle.com and see what you can find online!
For more information on commissioning a professional website, hosted on robust business-strength servers & fully supported... contact Eazyweb today.