Posted 13.5.11
Reaching local food producers... with Reach4Food
Finding and enjoying the wares of smaller food producers across the county of Bridgend just got a whole lot easier, thanks to the launch of the Reach4Food online directory.
Eazyweb have produced a highly accessible interactive web portal for Reach4Food - an initiative of Bridgend County & Borough Council.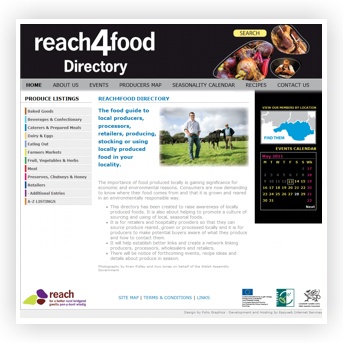 The importance of food produced locally is gaining significance for economic and environmental reasons. Consumers are now demanding to know where their food comes from and that it is grown and reared in an environmentally responsible way. The Reach4Food portal looks to address this need by providing information on local producers in one easy to use site.
The portal lists producers by category from all across the county, and provides detailed information on each company and their produce. The site features simple access to the information, via categorisation based on the type of produce, eg baked goods, dairy, etc.
The specific geographic location of each food producer is marked on an interactive Google Map of the surrounding locality. The site also benefits from other useful features like a handy Seasonality Calendar to show when foods are in season, as well as a section with tasty recipes.
At the recent launch at the 'Meet the Producers' in Bridgend Recreation Centre, the portal was very well-received, and now looks set to expand into a thriving focal point for producers across the Bridgend County region.
More information:
http://www.Reach4Food.com
Welsh Web Development Service:
Eazyweb Internet