Online Product Catalogue
Whether your company sells 2 or 2,000 products, and if you wish to sell online or simply display your catalogue with a brochure-style approach, the Small Business Website's product catalogue is for you.
Via the easy-to-use admin system, you can create any number of categories, sub-categories, and so on, and fill them with as many products as you wish - there is no limit enforced on the number of products you can add.

Each category and product can be assigned an image - the screenshot to the right shows a category browse page complete with images.
Clicking on a category displays a list of the products it contains, and any image can be clicked on to show the full details and extra options, as shown below.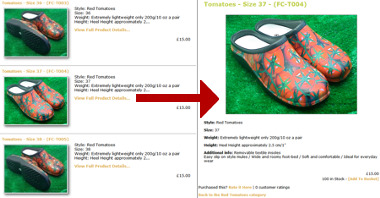 The full view shows a larger version of the product image (which can be clicked to show an even larger version, if available), the product description, and the price of the product.
Three optional extras are the "add to basket" option, stock control, and the ability for customers to leave a comment about the product. All of these features can be activated from the admin system - the comments and stock control via the configuration screen, and the shopping basket by entering your PayPal business email address.
If the shopping basket is activated, stock control can be turned on and off via an additional setting. If turned on, the stock level will be reduced whenever an online purchase is made. The screenshot below shows a shopping basket after several items have been added by a customer: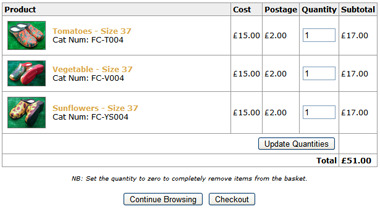 From the basket view, the customer can update the values in their basket, go back to the catalogue to continue shopping, or click "Checkout" to go to PayPal and pay for their order.
Once the PayPal process has been successfully completed, the money will be transferred straight into your PayPal account, and you will receive an email containing details of the order. It really is as simple as that!
Links to Example Sites
Websites created via the Small Business package that contain product catalogues.